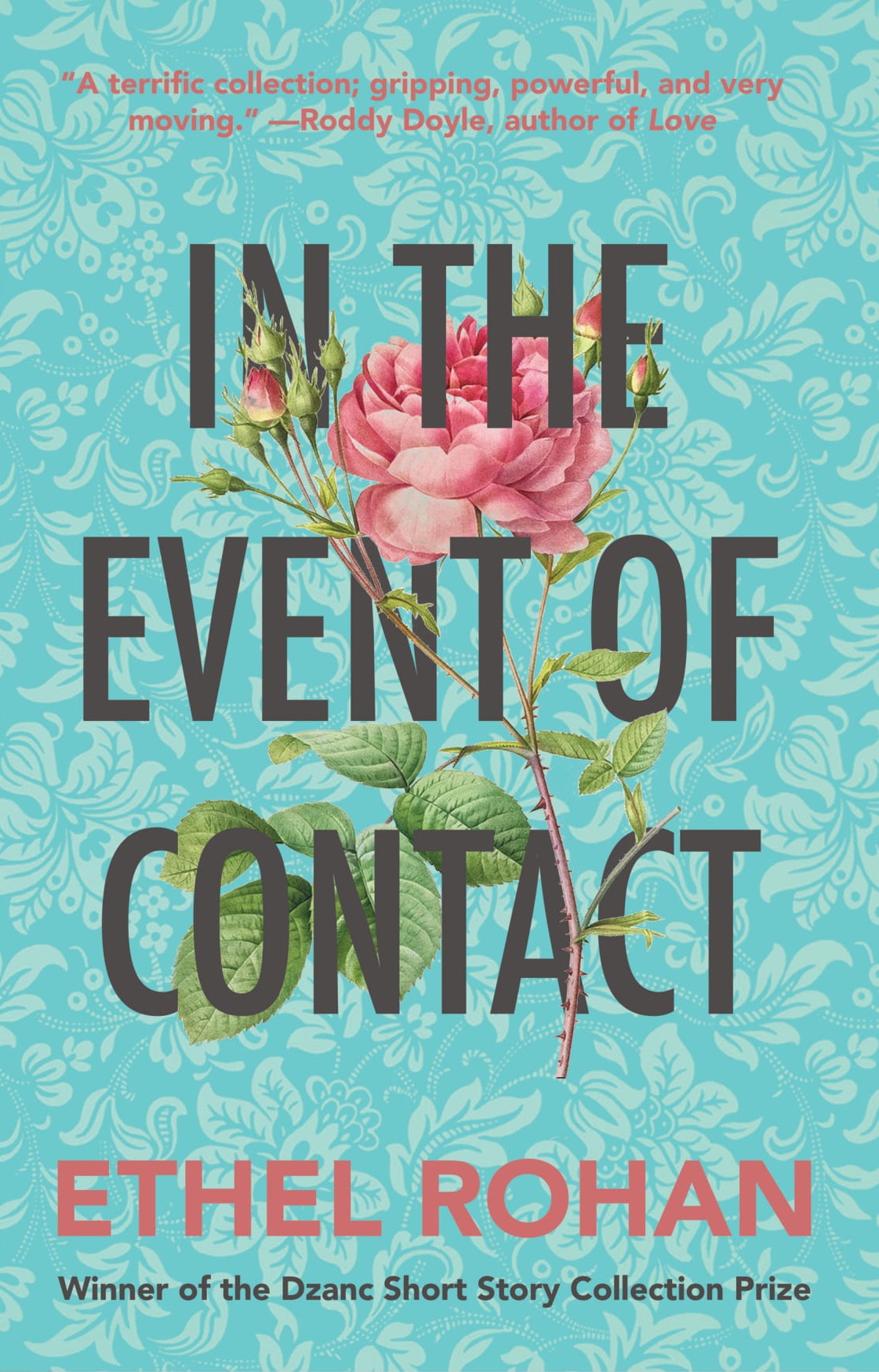 —Dzanc Books
—200 pages
—ISBN: 9781950539260
DZANC
Bookshop
Indiebound
In the Event of Contact contains fourteen gripping stories set largely in Ireland. Stories from a singular survivor voice that chronicle crises of contact or absence, various forms of injury, and characters making surprising bids for recovery.
Among them, a scrappy teen vies to be the next Sherlock Holmes; an immigrant daughter must defend her decision to remain childfree; a guilt-ridden woman is haunted by the disappearance of her childhood friend; a cantankerous crossing guard celebrates getting run over by a truck; an embattled priest with dementia determines to perform a heroic, redemptive act, if he can only remember how; and an aspirational, angst-ridden mother captains the skies.
Amid backgrounds of trespass, absence, and necessity, the indelible characters of In the Event of Contact seek renewed belief in humanity and the remains of wonder.
"A taut and melancholy meditation on human (dis)connection in overlooked places and among underseen people." — Sally Franson, San Francisco Chronicle
"Terrific, insightful stories…through subtly wrought metaphors and similes, Rohan draws us beyond the accommodations [injured characters] have made in order to survive, and into the heart of their trauma…compelling this reader to marvel at how doggedly so many of us recreate and repeat our trauma…[an] extremely fine collection." —Elizabeth Wassell, The Irish Times
"These are characters who are desperate to feel, and Rohan's keen sensitivity to the many textures of longing and loss bring their exquisite stories to life." —Arianna Rebolini, BuzzFeed
"A master of the short story." —Jane Ciabattari, Literary Hub
"And yet despite Rohan's portrayal of people trapped in small lives, these are not dark stories. The writing is devoid of handwringing, and even the most thwarted protagonist acts with a grit that feels born of the Irish landscape itself." —Jean Hey, Los Angeles Review of Books
"Thoroughly entertaining and enjoyable…This collection won the Dzanc Short Story Collection Prize in 2019, and it's easy to see why. Each story has a unique personality, and an original, playful premise. Trauma is a central theme, and it's delivered deadpan…There is a sort of nihilism in this, and a sort of faith. Darkness is accepted and swallowed. On these characters go…It is as if [the story's protagonist] has emerged from trauma with some godly power. This seems central to what the collection is trying to tell us: that every broken life might contain something holy." —Niamh Donnelly, The Irish Independent
"[Rohan's] work is imbued with the empathy of faith, with pain and heartbreak but not cynicism or despair. Her stories of hard-won resilience are welcome reading in these challenging times." —Rene Ostberg, U.S. Catholic Magazine
"In the Event of Contact is a timely read about the importance of connecting with other people on our own terms." —Evette Dionne, BITCH Magazine Selected Feminist Reads for May, 2021
"In the Event of Contact is one of 2021's must-read collections." —BUSTLE
"With In the Event of Contact, Rohan explores the literal edges of the human experience—what we desire to bring into contact with our bodies, and just as importantly, what we don't. She counts herself among the excellent women writers who continue to unflinchingly explore the realm of the body, and through this lens, infuse the short story form with a pervasive loneliness and ambient anxiety that mirror the uneasiness of our times: authors like Carmen Maria Machado, Roxane Gay, Ottessa Moshfegh, Sarah Rose Etter, Amber Sparks, and Sara Lippmann. Add Ethel Rohan's name to that list." —Joe Kapitan, The Rumpus
"Through her brilliant storytelling, Rohan explores the deep desire for human relationships, and the physical or psychological distances that affect them." —Booklist
"Social distancing marked the lonely horror that was this year; paradoxically a demonstration of how affection and empathy for our fellow humans required us to retreat into ourselves, connection now defined by the absence of contact. Ethel Rohan's book of short stories examines something similar in its evocation of what connection or its lack can do to us. In the Event of Contact is a loving homage to humanity in all its complexity." —The Millions
"Cultures merge, too, in the collection, Rohan's meticulously crafted stories reflecting emigration and identity struggles on top of clashing relationships…In the Event of Contact reverberates with this ultra-personal stake, made palpable in the cultures, characters, and relationships woven into its earnest, artful, and heartfelt stories." —J.A.Tyler, Ploughshares Magazine
"A striking collection about loners." —Publisher's Weekly
"The stories straddle the faultlines of the lives of their characters and as a collection quietly and subtly accumulate a potency that by the end leaves the reader breathless." —The Westmeath Independent
"Rohan's plain prose helps to feature the emotional earthquakes these characters undergo while they're navigating ordinary happenings, and her masterful use of Irish lilts and rhythms helps to reveal intricate emotional distances between those who left and those who stayed behind, even as it nestles the reader deep into her characters' hearts and minds." —Elaine Chiew, Foreword Reviews
"These tender stories tell the tale of how we all struggle to believe in ourselves, to live larger, to recover from loss. They are beautiful, like people, they form a commonality while expressing at the same time an individuality." —Regina Allen, Story Circle Network
"Throughout In the Event of Contact Rohan offers compassionate and vivid portraits of people looking for connection. Yet, in these searches, we see that we can find ourselves fragmented, sidetracked and in places we never expected. Such is the route by which we come to discover "that thing called love." —Lily Nilipour, the Stanford Daily